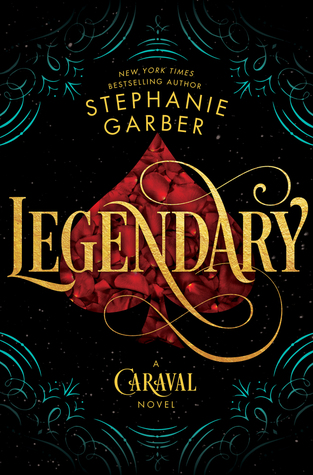 E-book, 451 pages
Fantasy, YA
By: Stephanie Garber
"If you can convince yourself it's true, you can convince anyone."
🌟 Caraval was a book that I didn't enjoy very much despite having many interesting story elements, The main problem in Caraval was it being choppy and all over the place, there were many twists and events that took place in book 1. Before reading this book I had to read book 1 summary twice to get back on track. This book was more organized, less distracting and I felt the author improved her writing style too, so what went wrong?
🌟 let's start with the writing style, the beginning of this book was so good and promising, that is up until a few chapters and then there is a strange shift where I felt it was written by a totally different person, then it shifts back and forth between brilliant and boring.
🌟 The Pacing was good and despite the presence of some boring moments, I found myself wanting to know what happens, the clear ideas in this book (Honestly this was this book's strong aspect in comparison with Caraval) helped in achieving this.
🌟 And while book 1 focused on Scarlett, this one focuses on Tella, I don't know how to feel about that because book 1 focuses on 1 sister while mentioning the other, while this book kind of ignores Scarlett  except for a few moments here and there. And that's not the main problem. Tella is so stupid, I mean if there was a book tag where I have to name 10 stupid characters, Tella has to be on that list! We and her by this point knows how magical and dangerous are deals and bargains during the Caraval, if you are tricked by a bargain then that's ok, but if you know it is bad and still go into it then that's just plain stupid!
🌟 And speaking of Magic, where did it go? Caraval was so weird and magical and strange while this second Caraval was boring and where are all the other players? The idea I am getting is that it was specially designed for Tella which is not logical from our understanding of Caraval.
🌟 And the plot twists were expect-able, I would have wanted more, I heard there was a surprising plot twist at the end, but I saw that whole part miles away and I even had better twists in my head!
"…most people give up at the part of the story where things are the worst, where the situation feels hopeless. But that's when hope is needed most."
🌟 Final Rating: 3 stars

Did you read this book? Are you planning to? what are your thoughts or expectations?