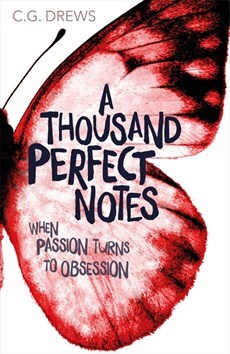 E-Book, 282 Pages
YA/ Contemporary
By: C.G. Drews
"Music is nothing unless it fills your soul with colour and passion and dreams"
🌟 Drews is one of the best reviewers on GR and that's why she knows what is the importance of an honest book review. Before reading this I saw many reviews mentioning that they are "biased" because they know the author, that just made me even more critical while reading this!
🌟 A few pages into the book and I was so into the story, the author does not need her status as a best reviewer or anything to succeed because she most definitely can write! This is a debut novel but it did NOT feel like one. This is better than many books that I have read. My expectations were exceeded and Drews, my hat is off to you!
🌟 This was a fast read, You can read it in one sitting or in one day and you won't regret it. Point is that this is only one more reason to read this.
🌟 The GR page of this book says that is "An emotionally charged story of music, abuse and, ultimately, hope." and I can't find a better way to describe it. It is a story about a boy who lives under the shadow of his mom, his mom is crazy and violent and she wants things to be done her way, so this boy's life is actually Lifeless. Then there is August whose life is the total opposite, they have to do a project together and the rest I will leave for your imagination… or you can actually read the book to know what happens!

"If he were a piano, all his strings would have snapped"
🌟 This book was emotional, there is a baseline of sadness in the story (The good kind though). And I was not waiting for a plot twist, I just wanted to know what happens. That is due to the fact that the characters were fleshed out and I do care what happens to them.
*** Some-what Spoilery Paragraph ahead that you may want to skip***
🌟 Now, I have some comments which are mostly related to me being a medicine student. I wanted to know more about The Maestro's background, what was her life-like before being ill? What kind of tremor she has? because tremors associated with strokes are somewhat rare and do get better not worse! if she can type on her keyboard then her fine movements should be relatively good but why she can't play anymore? I may be over thinking a bit, but I couldn't get over those thoughts.
---
---
🌟 Summary: This is a relatively fast but emotional read. A debut that did not feel like one, It shows the beauty of music, dreams and hope. I will read the authors other works for sure now! Final Rating is 4 stars
🌟 Did you read this book? Are you willing to?
Have you been following the author's reviews?
What are your expectations?

Comment below!