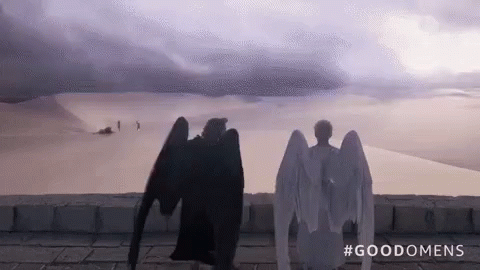 Ebook, 491 Pages
Fantasy/ Humor/ Adult
By: Neil Gaiman & Terry Pratchett
Rating: 🌟🌟 (DNF@30%)
"She was beautiful, but she was beautiful in the way a forest fire was beautiful: something to be admired from a distance, not up close."
🌟 I am going to be honest from the start of this review which will not be long as I did not read enough to have many thoughts! I just don't get it!! Neil Gaiman is a hit or miss author for me and this was my first book by Terry but I am willing to give his works another chance.
🌟 When I started reading and seeing the characters page, there were Angels and Satan and God and The Four Horsemen and it seemed like something I would enjoy. The beginning was a bit confusing for me and the writing was not that good but it was only the start so I decide to go on.
🌟 I go on and don't laugh, don't smile and don't understand half of those references and I was not enjoying it at all! I fell asleep a couple of times while reading it and decided to give it one last chance that felt like a chore to me.
"Many people, meeting Aziraphale for the first time, formed three impressions: that he was English, that he was intelligent, and that he was gayer than a treeful of monkeys on nitrous oxide."
🌟 See the quote above, does it make you laugh? if it does then there are chances you will like the book if not then the humor was like this or even worse. I saw many reviews mentioning how British it was and I guess I am not British enough to understand it! I felt I was supposed to laugh but I did not! this reminded me of my not so good experience with Gideon the Ninth where I had the same feelings!
🌟 Summary: I just don't get this book, from the writing to the humor to the characters, I was confused, bored and sleepy while reading it and decided that life is too short to continue it. I guess at least I can remove it from my tbr and my curiosity is now satisfied! If you like it, then no problem with that, this time it is genuinely me not the book problem!