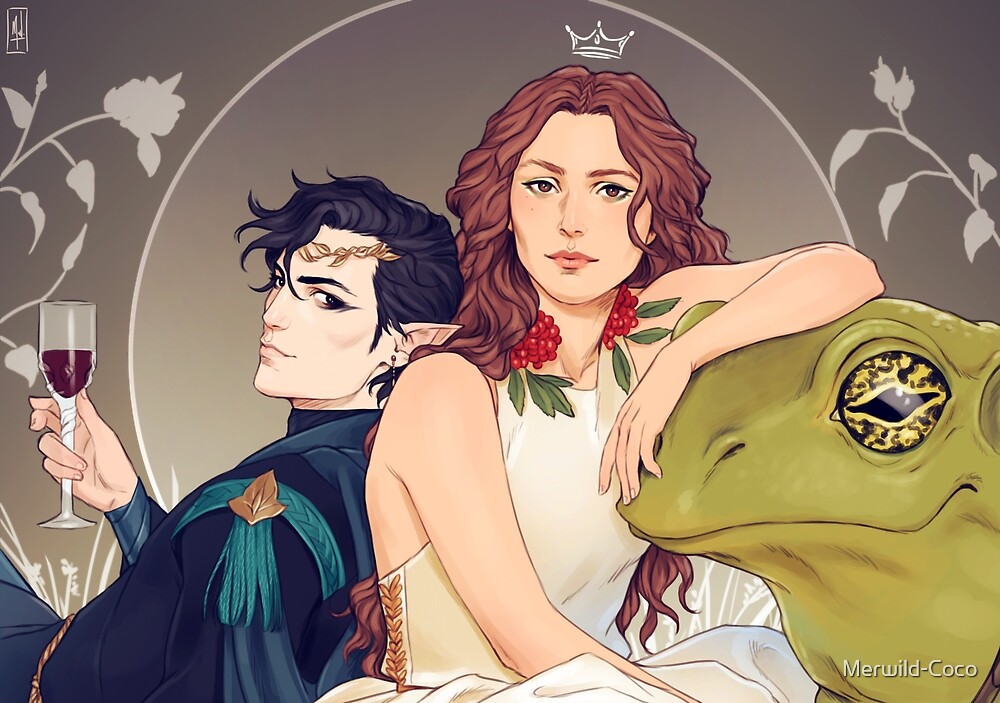 Ebook, 300 Pages
YA/ Fantasy/ Romance
By: Holly Black
Rating: 🌟🌟🌟🌟 ½
"I am the Queen of Elfhame. Even though I am the queen in exile, I am still the queen."
The Cruel Prince ★★★
The Wicked King ★★★★
The Queen of Nothing ★★★★ ½
🌟 There is no wonder that Holly Black created such a large ripple in the YA community with this series and it is over now! I don't know if fans will ever get over it though! The series kept getting better and better and I enjoyed this journey! The book which has been released a couple of days ago already has 6000 ratings and given that there were no ARCs this is crazy!!! I devoured it immediately in the release day because some of the fans have no chill and they think it is okay to spoil it for other readers!
🌟 I am going to start talking about the major problem I faced with this book because everything else was great. I was this close to giving this book 5 stars but the more I think about it, the more I feel a bit salty about this "issue", which is the pacing. I have complained in my review of the cruel prince that it was slow-paced at some points and I was happy it was faster in The Wicked Kingdom, this book had the fastest pacing ever! I felt like Holly was given a bet of finishing the book in 300 pages and she won this bet but at the expense of too fast pacing. And too much of a good thing can be a bad thing! There was an event after event after event and things made sense but I wanted a few pages to take a breath and let them settle in! Major events were happening off pages which felt a little lazy and unacceptable to me, there was not enough time to establish an emotional connection with some events and characters and if it was not well established in the previous book then it would have been disastrous! If Holly added like 100 more pages and made the pacing a bit slower and added some small events then it would have been much better!
"There is no banquet too abundant for a starving man."
🌟 The prose is great, no wonder why fans are crazy about this series and the quotes are all over the book community because Holly has such a unique way with words and there were many good quotes in the book! Faes are known as cunning creatures and as their queen, Holly did a great job in transferring them into written pages!
🌟 The characters grew immensely from book 1 till book 3, in book 1 the characters were annoying and kind of stupid and not all readers were fans. In book 2 they became much more likable and I loved them in book 3! Every character gets what they deserve and that made me happy. I know the relationship between Jude and Cardan is not the healthiest in literature but I think it is intended to be that way because Faes are such sneaky devious creatures and they would use whatever they have to achieve their goals and we had plenty of that throughout the series!
🌟 Plot-wise, I did not know what to expect! I love that about this series, the cover had some weird shit going on and I did not know what to expect but after finishing the book, I know it all makes sense in a very good way (Still not a fan of the cover though). But Holly manipulated us and used prophecies which is my favorite trope ever! That may explain why this may be the fastest book I have ever read in a matter of hours. There was a lot of foreshadowing from the previous books and everything fell into its place in this finale which made me very satisfied with how it ended!
"You don't know how long I've waited to hear those words," he says.
🌟 Summary and Prescription: Holly Black provides a very satisfying conclusion to this series with the usual great writing, memorable characters, and amazing plot twists! The only problem that it felt so rushed and the pacing was too fast! If the book was longer then it would have been a new favorite for sure, that being said, I still enjoyed this finale immensely and will read Holly's other books some other time!