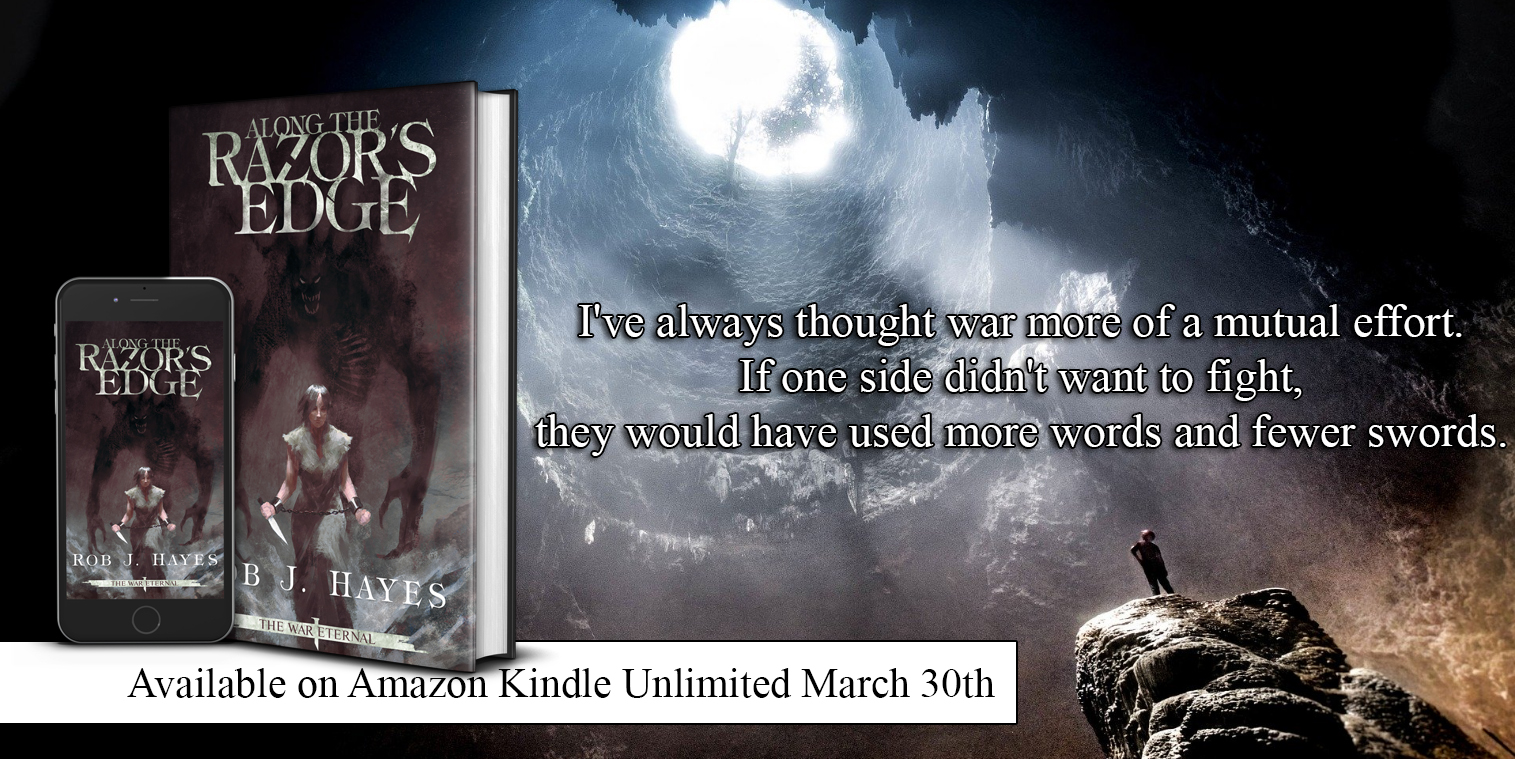 E-ARC, 281 Pages
Grimdark/ Epic Fantasy/ Adult
By: Rob J. Hayes
Rating: 🌟🌟🌟🌟🌟
"Are we all just monsters waiting for the opportunity to show it?"
Late in 2018, I saw the cover of Never Die on Twitter as the author wanted some readers for the ARC, I did not know who the author is, what is the book about, I just had a feeling that I would love it and I did. It ended up being my last five stars book of 2018. Last month, when Rob was asking again for people to read the ARC of this book, I jumped again for the opportunity and to be honest, I knew it will be different from Never Die but I did not know it will be as awesome as that one!
This book has a unique story line, I think that I like how it is not stereotypical and it actually is unlike anything I read before. The story starts with the MC's (Eskara) country losing the war to the country of the enemies. Because she is a powerful sourcerer, they send her to the pit, a very deep prison underground that the most dangerous criminals are sent to. She is trying to survive there by making friendships and enemies of the other prisoners.
The writing is great! I have to mention that my taste changed a lot from late 2018 to now but I still freaking loved the writing. It was very simple to follow and read! I highlighted a shit ton of quotes and it was like that Rob said "Let's cut the crap and get down to business". Some of my friends always ask me where is a good place to start adult fantasy because these are usually thick tomes. I think Rob books are a great place to start because they are very accessible, very entertaining without being intimidating! The book is told in first person POV (Eskara telling the story) and we have one main timeline and some flashbacks -to know the backstories of Eskara and Josef- and some future facts that were casually thrown and made me very curious (WTF Rob, you can't do that!!)
"The young and innocent are usually the first casualties of any conflict. Though I was already far from innocent."
The characters were very well written and I cared about all of them, they were real fleshed out people for me! Eskara will be a very memorable character for me because although she is young, she has gone through a lot and that made her what she is today. She is 16 years old and she did a lot of mistakes and stupid things (which she actually confess while telling the story and that made me very happy!), and she also confess to being a hormonal teenager at some point and that was great!
The secondary characters were also characters that I cared about: Josef, Hardt, Isen, Tamura, Yorin and Even Prig and Deku were characters that had my interest and when I finished the book, I wanted to know what happens to all of them. I should mention that the monster on the cover is called Ssserakis and I don't know if I ever read a name cooler than that one!
There is one aspect that shined through the book and it is the psychological one. Being in Eskara's head made me care more for her. The physical and psychological torture she goes through were things that I almost felt when she told us about them. The interactions between all different characters made much sense to me and within the settings we have, it was very realistic.
"Killing should never be easy, nor handed out indiscriminately. A person's life is a one-time thing. No one should take that away without good reason."
Speaking of settings, let me tell you a bit about the world-building. We start the book getting to know the pit and it really is an awful place, the book was atmospheric and it succeeded in transferring me to that pit. The flashbacks give us some info about the magic school the MC attended and about the magic system itself. I like the system because it was simple but very smart. It reminded me of Sanderson's allomancy system because to use magic you have to swallow sources (There are 20 of those with different kind of powers) and if you are compatible then you get to use them for a limited time before they start consuming you. I am not going to explain more because exploring the system was one of the enjoyable parts of reading the book.
Summary: Another awesome and surprising read by Rob Hayes. The book delivered awesome writing, characters, world-building and plot in less than 300 pages and that is mind-blowing! I recommend this for all grimdark fantasy fans and those who want shorter books. I already have written a summary of the book in preparation of book 2!!
"Unpredictable to your enemies is good. Unpredictable to your friends is bad. Hard to catch a person when you don't know which way she'll jump."